What is the Cost of a Loan?
We strive to keep our fees as affordable as possible for our customers! Our borrowing fee varies by state and is subject to change over time. Here's a current breakdown:
In Rhode Island, a Possible loan costs $10 for every $100 borrowed.
In Alabama, Kansas, Kentucky, South Carolina, Tennessee, and Washington state, a Possible loan costs $15 for every $100 borrowed.
In California, a Possible loan costs $17.65 for every $100 borrowed.
In Idaho, Mississippi, and Utah, a Possible loan costs $20 for every $100 borrowed.
In Delaware and Missouri, a Possible loan costs $25 for every $100 borrowed.
In Florida, Indiana, Iowa, Louisiana, Michigan, Ohio, Oklahoma, and Texas the borrowing fee is not a flat rate. Please download the app and use the blue slider tool for more specific information regarding fees.
Your fees are divided equally among 4 payments and you are given approximately 8 weeks to repay. If you need to adjust your payment dates, you can use the Update payment dates feature in the app after your loan is accepted. We offer a 29-day grace period for added flexibility. You can move your dates around in the app while you are still within that grace period.
Does Possible Check Credit Scores?
Credit scores are not used to determine your eligibility. We use a variety of factors when determining your eligibility, such as your bank account balance, regular income deposits, a Clarity check, and more to help guide our decision.
You can learn more about Clarity in this article on credit reporting agencies. For more information about other factors we review during the application process, please see this help center article.
Our goal is to help improve your financial health. Once approved, we will report to TransUnion and Experian with the goal of helping increase your credit score.
What's Different About California Loans?
Possible's loan product slightly differs in California due to state lending regulations. When you apply for a loan in California, you will first accept a single-payment loan. Then, you will be immediately presented with the ability to upgrade to an installment plan. The installment plan is designed to split your amount owed into 4 separate payments, to be repaid over the course of 8 weeks.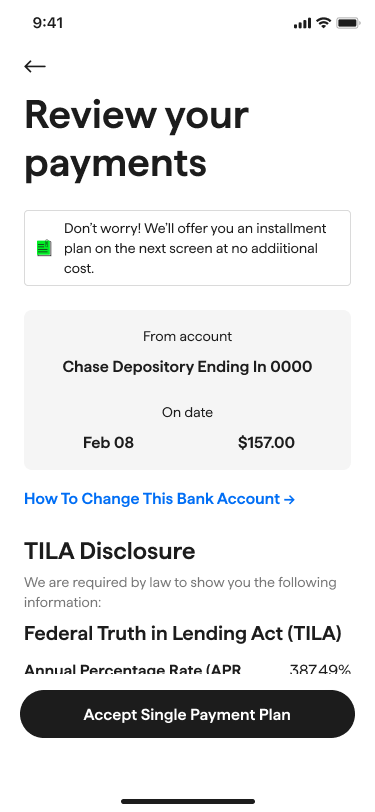 Before you accept your loan, you will be provided with the option to either accept or decline the 4 payment installment plan. If you didn't choose to convert to the Installment plan when you initially accepted your loan, you can still convert it after the fact. To do this, you'll just go to your Dashboard and click "I Need More Time".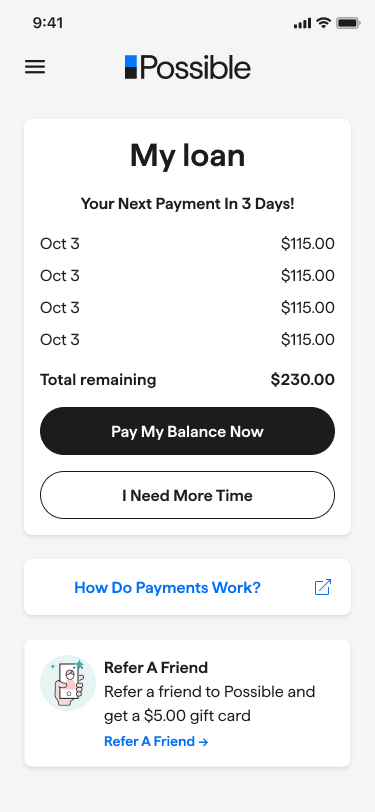 You'll then see the option to "Accept Installment Plan".

If you run into any issues converting your loan, just send us a request through the Contact Us form in the app! For security purposes, you will be required to verify the last 4 digits of your SSN and Date of Birth when contacting customer support for assistance.
*Please be aware: Your loan cannot be converted to an installment loan if your single payment is due within 1 business day, or if it has already begun processing.
Additionally, your loan cannot be converted to an installment loan if a single payment was attempted and returned.
If you need assistance converting to an installment loan, please reach out using the Contact Us form as soon as possible. Payments initiate 1 business day prior to the payment due date. We cannot make changes to the payment or convert your loan, once payment has been initiated.
When you upgrade to a 4-payment installment loan, your on-time payments will be reported to TransUnion and Experian in an effort to help boost your credit score!
How Do I Access My Loan Documents?
Have you ever wanted to see your loan agreement AFTER you've taken out a loan? Well, in the Possible app, you can! Follow the instructions below to view your loan agreements on current and past loans.
1. Log in to the Possible App
2. Tap on the Menu button in the top left corner (the waffle icon)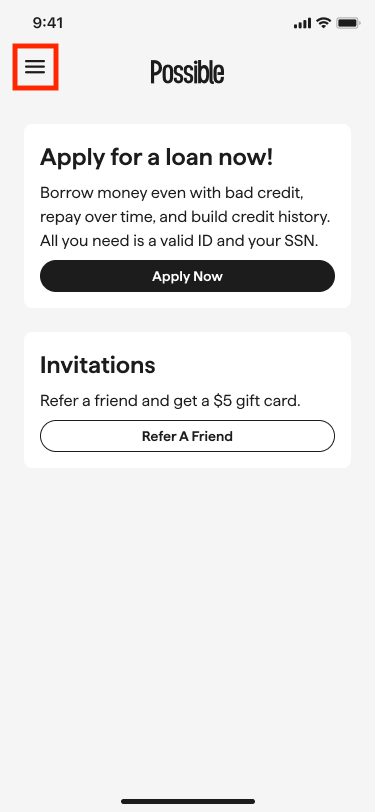 3. Tap on Loan history & documents towards the end of the list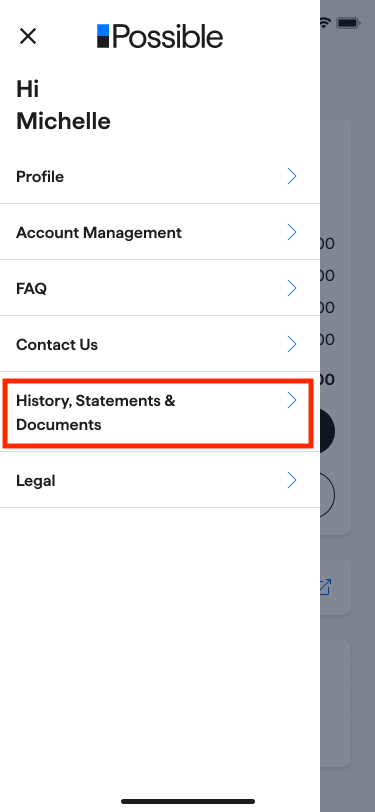 4. You will see a list of your loans/cards with links to agreements. Choose which product and agreement you would like to view and tap on that link to view a pdf version of the agreement