What are the benefits of referring a friend?
Every time you invite a friend to Possible and they take out a loan, you get a $5 gift card!
A referral is our way of paying it forward. There is no limit to how many people you can refer, but your referrals must reside in a state where we are currently accepting new applications: Alabama, California, Delaware, Florida, Idaho, Indiana, Iowa, Kansas, Kentucky, Louisiana, Michigan, Mississippi, Missouri, Ohio, Oklahoma, Rhode Island, South Carolina, Tennessee, Texas, Utah, and Washington state.
We are expanding as fast as we can, but this may take time. If your friends reside in a state that is not listed above, they'll have to sign up for our waitlist.
How can I refer a friend or family?
Invite your friends using your own special referral link from the main home screen in the app!
Tap on the Refer a Friend button.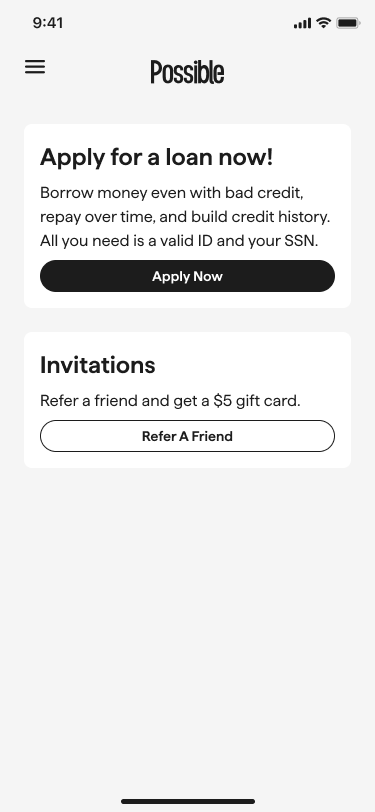 On the next window, tap on the Invite Friends button, you'll get access to your link.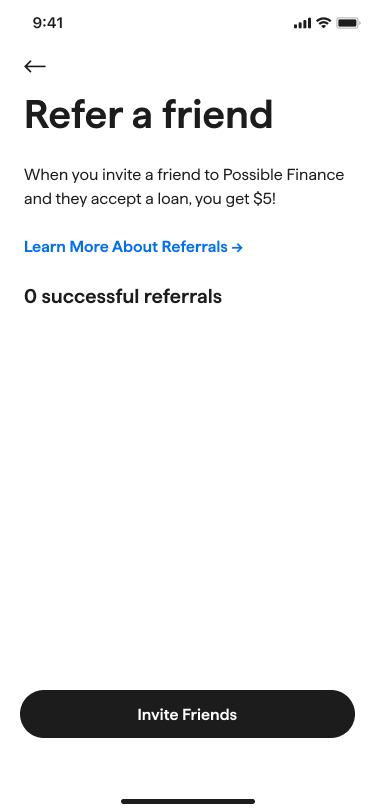 You can copy the link and send it to whoever you want, however you like. You can also share your link directly through different apps, like Facebook and Instagram.
When your friends click on the link, they'll be sent to the app store to download Possible.
Since they clicked on your special link, we'll know you referred them!
After your friend accepts their first loan with us, you'll see a successful referral on the Refer a Friend screen. After your referred friend has had an active loan for 24 hours, a gift card will be automatically issued via GiftBit and sent to the email address we have on file for you.
Please keep in mind that your friend must have their loan for at least 24 hours before the gift card will be sent out. Thank you for your patience!
Not seeing a gift card within 2 business after your referral's loan has been active for 24 hours? Please contact our customer success team so we can help!